Nominations are open for the next Geelong Grammar School Medal for Service to Society
The Geelong Grammar School Medal for Service to Society is the highest honour the School and our Foundation can bestow. It has been established to recognise people who, by way of the excellence of their achievements, have made sustained contributions to the betterment of society. The award embodies the School's spirit of making a positive difference.
The Medal was most recently awarded to Tim Fairfax AC (M'64) in 2022.
To nominate a member of the GGS community please complete the Nomination Form.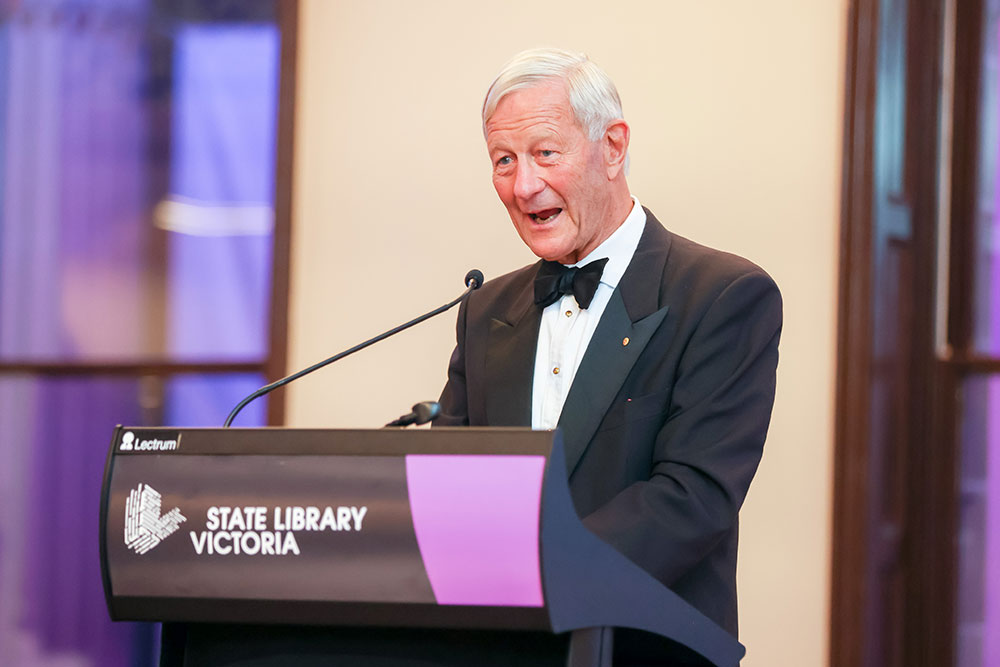 2022: Tim Fairfax
Tim's leadership and philanthropic support has had a profound and transformational impact on rural and regional development, visual arts, and education in Australia, and particularly his home state of Queensland. Tim was Chancellor of the Queensland University of Technology (QUT), Chairman of the University of the Sunshine Coast Foundation and a Director of Australian Schools Plus, which promotes philanthropic support for schools in low socio-economic areas.
He has served as Chairman of the National Portrait Gallery, a board member of the National Gallery of Australia (NGA) Foundation and is President of the Queensland Art Gallery of Modern Art (QAGOMA) Foundation. He founded the Tim Fairfax Family Foundation in 2008 to support people in rural and remote communities in Queensland and the Northern Territory and is Chairman of the Foundation for Rural & Regional Renewal (FRRR), overseeing the development of mental health programmes for rural and regional Australians.
Watch: Tim's acceptance speech
2018: Glen Liddell-Mola (M'64)
In 2018, the Geelong Grammar School Medal for Service to Society was awarded to Glen Liddell-Mola (M'64). Glen has dedicated more than 50 years of his life to improving women's reproductive health and reducing the maternal death toll in Papua New Guinea, which has one of the highest rates of maternal mortality in the world. Glen provides medical care, training, outreach and health clinics across PNG as well as running the busy maternity ward at the Port Moresby General Hospital. He is also the Professor of Obstetrics & Gynaecology and Reproductive Health at the University of Papua New Guinea, where he has trained generations of local doctors, obstetricians, midwives and birth attendants.
Listen: Glen speaking about receiving the medal and his career on ABC Radio Australia
2016: Eve Lester (Fr'81)
In 2016, the Medal for Service to Society was awarded to human rights lawyer and refugee advocate, Dr Eve Lester (Fr'81). For more than a quarter of a century, Eve has been a voice for some of the world's most vulnerable people – refugees and asylum seekers – both in Australia and overseas, most notably in West Africa and Cambodia. She has served as the head of Amnesty International's refugee and migration programme based in London. She has also worked as a consultant for the United Nations High Commissioner for Refugees (UNHCR) in Geneva, the Lawyers Committee for Human Rights (now Human Rights First) in New York, and the Jesuit Refugee Service in Australia and Cambodia. She has been a persuasive and persistent advocate of the human rights of refugees at regional, national and international levels, both publicly and in behind-the-scenes advocacy with governments, relevant inter-governmental and non-governmental organisations.
Visit: Eve Lester's website
2014: Mechai Viravaidya (P'59)
In 2014, the inaugural Geelong Grammar School Medal for Service to Society was awarded to Thai health and education activist Mechai Viravaidya (P'59). Whilst working as an economist for the Thai government's National Economic Development Board in the 1960s, Mechai recognised that overpopulation was the developing country's biggest barrier to social and economic progress. Frustrated with bureaucracy, he established the Population and Community Development Association (PDA) in 1974, instigating ground-breaking community-based family planning services aimed at improving the lives of the rural poor. The condom became Mechai's weapon of choice and he promoted the prophylactic's use through dynamic, creative and imaginative campaigns – producing stickers, posters and t-shirts emblazoned with catchy slogans like 'A Condom a Day Keeps the Doctor Away', persuading Buddhist monks to sprinkle holy water on condoms, and distributing condoms to the entire Bangkok Police Force as part of his infamous 'Cops and Rubbers' programme. He single-handedly popularized the use of condoms in Thailand and became affectionately known as 'Mr Condom' – or 'Lord Condom', as Prince Philip once referred to him – and played a critical role in reducing Thailand's birth rate from 3.2 to 0.6 per cent, with the average number of children per family falling from seven to under two in the space of 30 years.